Blackmores Metabolism Advantage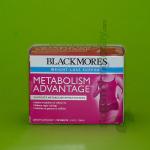 Blackmores Metabolism Advantage supports metabolism to enhance your weight loss efforts. Blackmores Metabolism Advantage has been formulated with a therapeutic dose of an Ayurvedic herb, Coleus forskohlii, traditionally used to support normal thyroid function and metabolism. Blackmores Metabolism Advantage is available in a pack of 90 tablets.
Blackmores Metabolism Advantage's unique formula also contains special ingredients that:
Assist the metabolism of fat, protein, sugar and other carbohydrates.
Facilitate cellular fat breakdown.
Replace nutrients that are often low in weight loss diets.
Support energy production from the metabolism of food.
Help reduce cravings for sweet foods that can develop due to dieting.
May assist with maintaining a healthy heart.
Assist in immune health.
Dosage
Take 1 tablet with each meal (3 tablets per day) or as professionally prescribed.
Blackmores Ltd, Auckland, New Zealand.
No prices listed for this product.