Pure White Professional Teeth Whitening System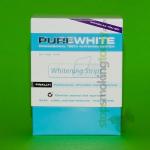 The Pure White Professional Teeth Whitening System is a dentist tested and approved, long lasting system which contains 40 whitening strips (20 upper and 20 lower) to whiten your teeth safely and effectively. Using an enamel-safe formula, improvement in tooth colour is noticeable in less than five days and a white smile lasting for a up to a year. The Pure White Professional Teeth Whitening System is a great way for ex-smokers to reveal a bright, white, new smile. The Pure White Professional Teeth Whitening System contains glycerin, hydrogen peroxide, menthol, peppermint oil and carbomer.
Directions for use
For best results, do not brush teeth immediately before applying strips.
Open foil pouch and remove strip.
Seperate zigzag slit to expose edge of textured whitening strip.
Gently peel strips from backing.
Apply gel side of strip to teeth.
Align strips with gum line and press gently for good contact.
Hold for 5 seconds and then leave on for 30 minutes.
Fold the rest of strip behind teeth to keep in place.
Wear strips for 30 minutes, twice a day, and then remove and discard.
If you notice gel on your teeth, brush and rinse, or wipe it away.
Cautions
Strips only whiten permanent, natural teeth. They do not whiten work on crowns, veneers or dental work.
For cosmetic use only.
Avoid contact with eyes.
Do not chew or swallow strips. If strip is accidentally swallowed, contact your GP or your nearest hospital.
Store in a cool, shaded place out of the reach of children.
Temporary tooth sensitivity may occur.
Discontinue use if you experience sustained discomfort or irritation.
Distributed by Bedazzled NZ Ltd, Auckland, New Zealand.
No prices listed for this product.